4-Riders BikePark
Reverse Components Est.2004

TRAILS
In 4 Riders Bike Park we have everything from beginner tracks, like flow lines, to technical and steep tracks for the most experienced riders. We have a professional team of trails builders with extensive experience in competition and building circuits, and they always take safety first, so our clients can enjoy at the fullest without worrying. Our priority here at 4 Riders Bike Park is to offer a well-constructed SLOPES with constant maintenance all year!
If you want to get started with cambers, jumps and drops, we recommend that you try our Mini Zone first. It is a reduced version of what you will find in the bike park, and you don't need to get on our lift or buy your pass. It is a very good option for young children or adults who haven't had any experience with mountain bike.
Difficulty

: Yellow / Very easy
This track is 100% artificial. It has little slope and very fluid constructions designed for initiation. It has plateaus, dubbies and the highest cambers in the entire country.
This is the most complete track, since it combines natural and artificial elements, with technical zones, wood cuts, plateaus, hips and linked cambers. It is a very fun track, designed for medium and high levels.
This is the trail most similar to the world cup circuits, which is why it is the right one to celebrate the 4 RIDERS DOWNHILL RACE. It is characterized by being the longest and most natural of all, fast sections with stones and against cant with roots. Technically, it is more technical than the Snake, therefore, it is recommended to have a medium level in descent.
Difficulty: Difficulty:

RED / Medium
It is the track with the most unevenness and the most technical of all, combined with some spectacular doubles at the end. It has natural areas with roots and rock gardens, drops, doubles and a step up for the trickiest. This track is recommended only for expert riders who want to improve their technique.
Difficulty: Difficulty: Black / Difficult
Trail Map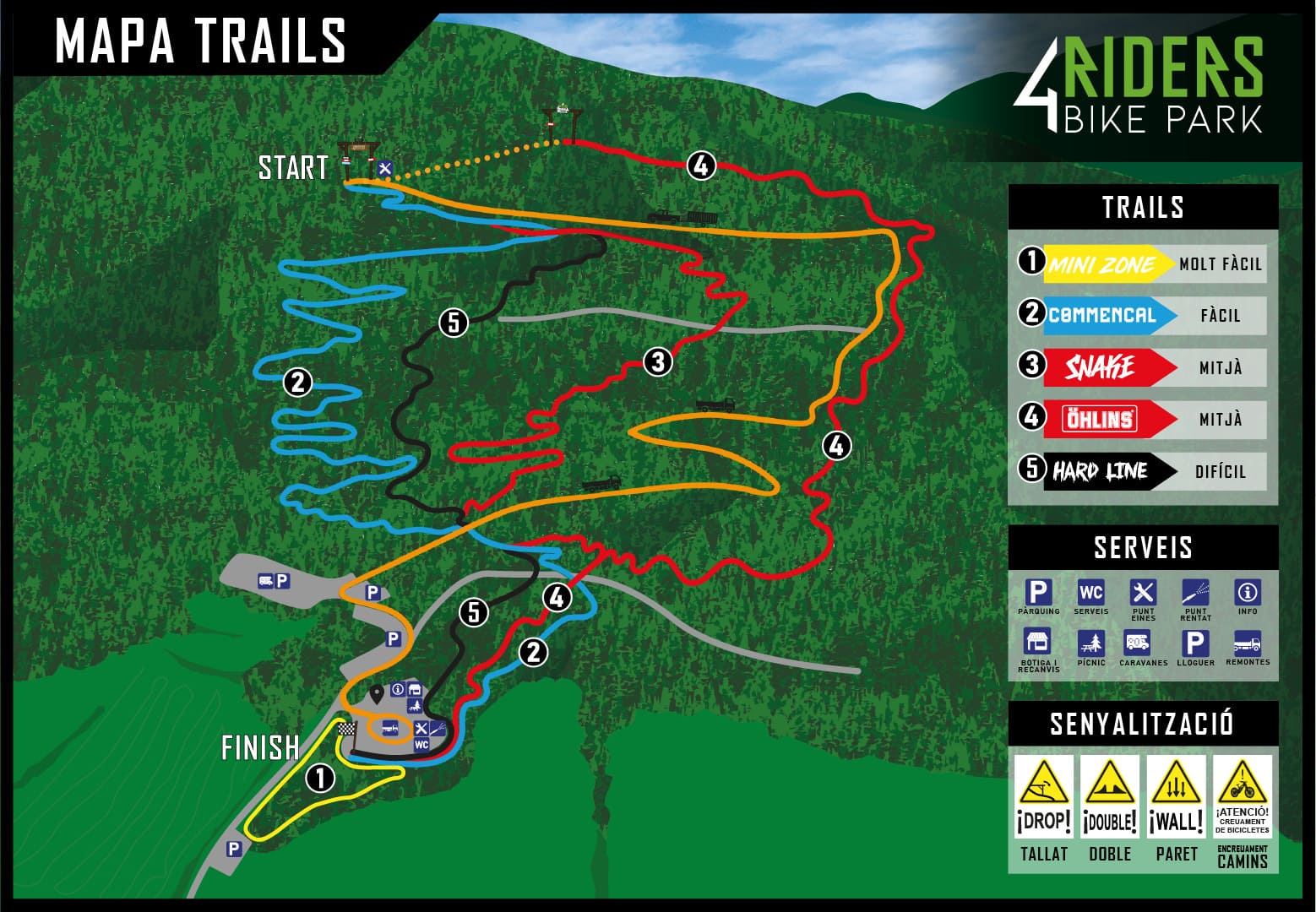 Marc Diekmann (DE) Bikepark Check